As described within Using ArenaCore, page designs may be submitted for approval by managers who have been assigned the Engineering Manager access role.
Note that within a one-person organisation, you will have been setup initially with ownership of all workflow access role types – meaning that you can both Submit and Approve page designs.
As was shown in Using ArenaCore page, once a management page has been submitted for Review it will appear within the 'My Tasks' list under the 'ArenaCore Tasks' view: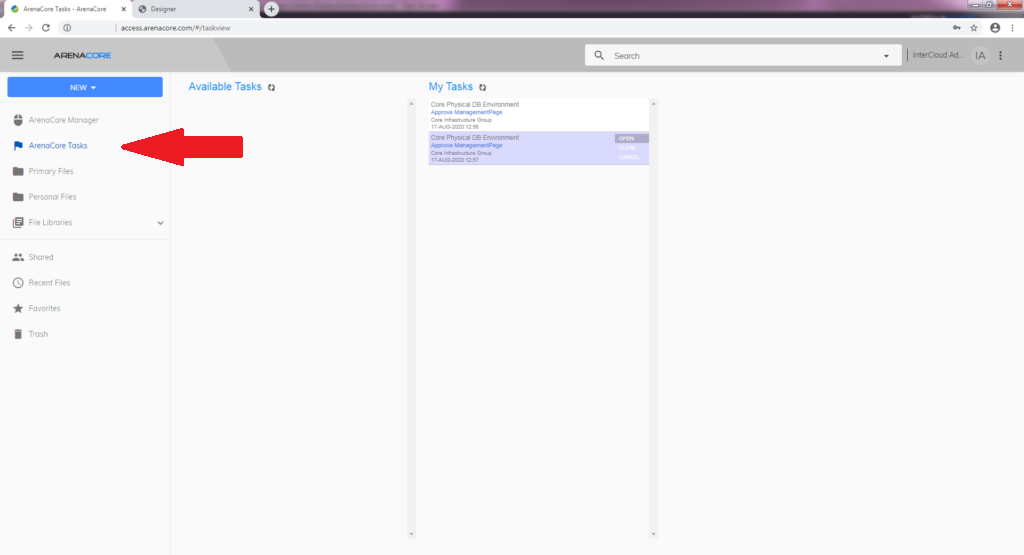 If the 'Open' button/link is used to open an management page that appears here, the Approve and Reject buttons will be available under the 'Workflow' tab within the management page: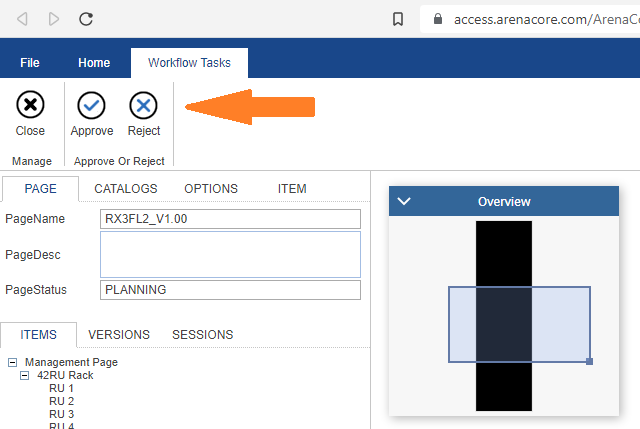 Selection of the 'Reject' button will cause the page to be directed back towards the user who originally submitted the page, in order for them to correct problems associated with the design (before submitting it for review and approval again).
Selection of the 'Approve' button will cause the page to be committed into becoming the currently active representation of the implemented equipment or service state. Additionally, ArenaCore generate orders for items that have been sourced from Resellers and must be installed.
In this case, ArenaCore supports the generation of Project items under which the implementation of any such items can be spread across relevant implementation teams via generation of additional Work Orders.
A high level view of this process is shown in the following flow diagram: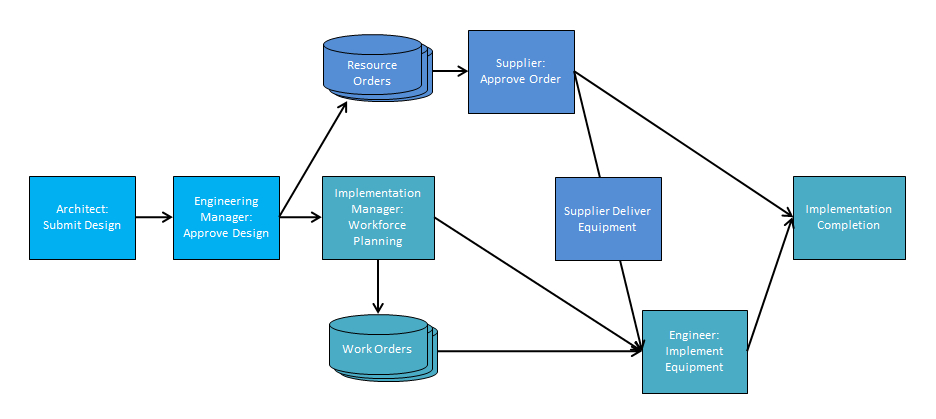 Work Orders and individual task assignments across team members is handled by a Human Tasks workflow engine. This engine allows individual team members either to iteratively take responsibility for sub-tasks, until all tasks are completed, or for managers to bulk assign individual tasks to specific team members. This detailed sub-task flow operates in conjunction with the higher level process flow, such that completion of all sub-tasks results in the completion of the high level flow also.
Please note that the entirety of flow handling in particular with respect to Work Order management is not currently accessible from the ArenaCore HTML5 front end.
If you are interested to explore this capability, please contact ArenaCore for further information.
Please note also it is anticipated that while review / approval processing may be beneficial for some (larger) customer environments, for other smaller environments this may potentially be a hindrance.
It is expected that the ability to switch this capability on or off will need to become manageable as a user configuration item.
To gain additional helpful information on using ArenaCore, please continue to the Moving Further Forward section.